Motorcycle Week New Hampshire
From:  https://www.cyclefish.com/motorcycle_event/982
Laconia Motorcycle Week 2018 Motorcycle Rally
Saturday, June 9, 2018 – Sunday, June 17, 2018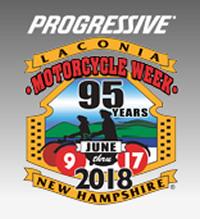 "Laconia Motorcycle Week® celebrates its 95th Anniversary in 2018 as the World's Oldest Motorcycle Rally®! With the 2nd largest demographic of motorcycle riders in the country and host to the oldest Rally in the country, NH opens its doors to motorcycle enthusiasts all year long because "In Laconia, We Ride®!"!
Events fill all nine-days of the Rally and include motorcycle racing, Hill Climbs, bike shows, concerts, swap meets, daily gypsy tours, charity rides and poker runs, rider and passenger contests, and of course – if that's not enough to fill your time – Laconia Motorcycle Week also has vendors of all varieties and entertainment establishments with live music all day and into the night!
Check out the Official Laconia Motorcycle Week Website (below) for a complete schedule of events and lodging list. Be sure to sign-up for the FREE Laconia Rally News magazine and e-newsletter to stay up to date on all the latest Rally information.
Also be sure to Like our Laconia Motorcycle Rally Facebook Page"